Community involvement and development
Community involvement and development
In assessing the material issues, the Executive Group Management has made community involvement and development one of three focus topics. Community involvement and development stands out due to its many aspects. It includes the promotion of education, culture, and sports, as well as support for groups at the edge of social and workplace exclusion. Open, honest, and fair dealings with local and regional administrative authorities are also part of this complex topic. The company's investments globally for projects in education, culture, and sports, and for disadvantaged groups can take the form of donations in cash or in kind, as well as vocational training positions or support for employees in their engagement through voluntary work within the community.
At the end of 2021, HUBER+SUHNER published its globally binding guidelines on the topic of community involvement and development. As of the 2022 financial year, HUBER+SUHNER will have a total of 0.5 % of budgeted earnings before interest and taxes (EBIT), or at least CHF 500 000, available for the support and initiation of projects. The funds will be provided from the operating business as well as from the HUBER+SUHNER Foundation.
In 2022, a total of 67 % of Group companies sponsored or initiated a total of 173 community involvement and development projects, spending around CHF 579 000. With the easing of the Covid-19 pandemic related measures in 2022, HUBER+SUHNER community development activities picked-up again. Another accelerator was the war in the Ukraine which created a sense of urgency to take collective action.
| | | | | | | |
| --- | --- | --- | --- | --- | --- | --- |
| Year |   | Investment in CHF |   | Number of projects |   | Proportion of country organisations |
| 2020 |   | 333 000 |   | 118 |   | 56% |
| 2021 |   | 459 000 |   | 104 |   | 53% |
| 2022 |   | 579 000 |   | 173 |   | 67% |

Switzerland
HUBER+SUHNER Foundation
The HUBER+SUHNER Foundation provides benefits to the company's employees in accordance with the foundation's purpose. It also supports social, cultural, and sports related projects in the geographical catchment area of the Swiss HUBER+SUHNER sites in Herisau and Pfäffikon. Depending on the size and nature of the projects, the contributions can range from a few hundred to tens of thousands of Swiss francs.
After a couple of years where the global Covid-19 pandemic had halted or postponed some projects which were funded in 2020 already, the number of 2021 applications was also impacted.
| | | |
| --- | --- | --- |
| Year |   | Number of projects |
| 2020 |   | 105 |
| 2021 |   | 86 |
| 2022 |   | 142 |
In 2022, the HUBER+SUHNER Foundation, founded in 1947, celebrated its 75-year annniversary. On this occasion, two projects were launched for all employees in Switzerland to celebrate this important milestone.
Getting ready: In May, employees were offered a branded, high-quality soft-shell jacket, the perfect apparel for leisure and sports activities.
Be active and do good: Under this motto, the Foundation emphasized its Corporate Responsibility in the communities where HUBER+SUHNER Switzerland has its premises. During the month of September, all employees were encouraged to take part in a step-counting challenge via Step Coach, an application that let users count steps and sports activities during team challenges. Employees could choose one of the seven selected organisations in the Pfäffikon ZH and Herisau catchment areas, forming seven online teams which had the goal of virtually walking from Pfäffikon to Herisau. All collected steps per team were translated into a financial donation for each of the chosen non-profit organisations.
The seven organisations supported included:
Six of these organisations are dedicated to and support people with an impairment or from economically disadvantaged backgrounds of various age groups with integration into society via housing, employment, sports or financial support. The last one is dedicated to nature conservation and to sensitise people about the importance of the lake of Pfäffikon and its surrounding areas.
190 colleagues signed up for the challenge and collected steps by walking, running or playing other sports which through the app were converted into addable steps. Step-Coach allowed for everyone to see in real time, how many steps each team had collected and which individual was leading the pack in terms of steps, which gave an extra push to all participants.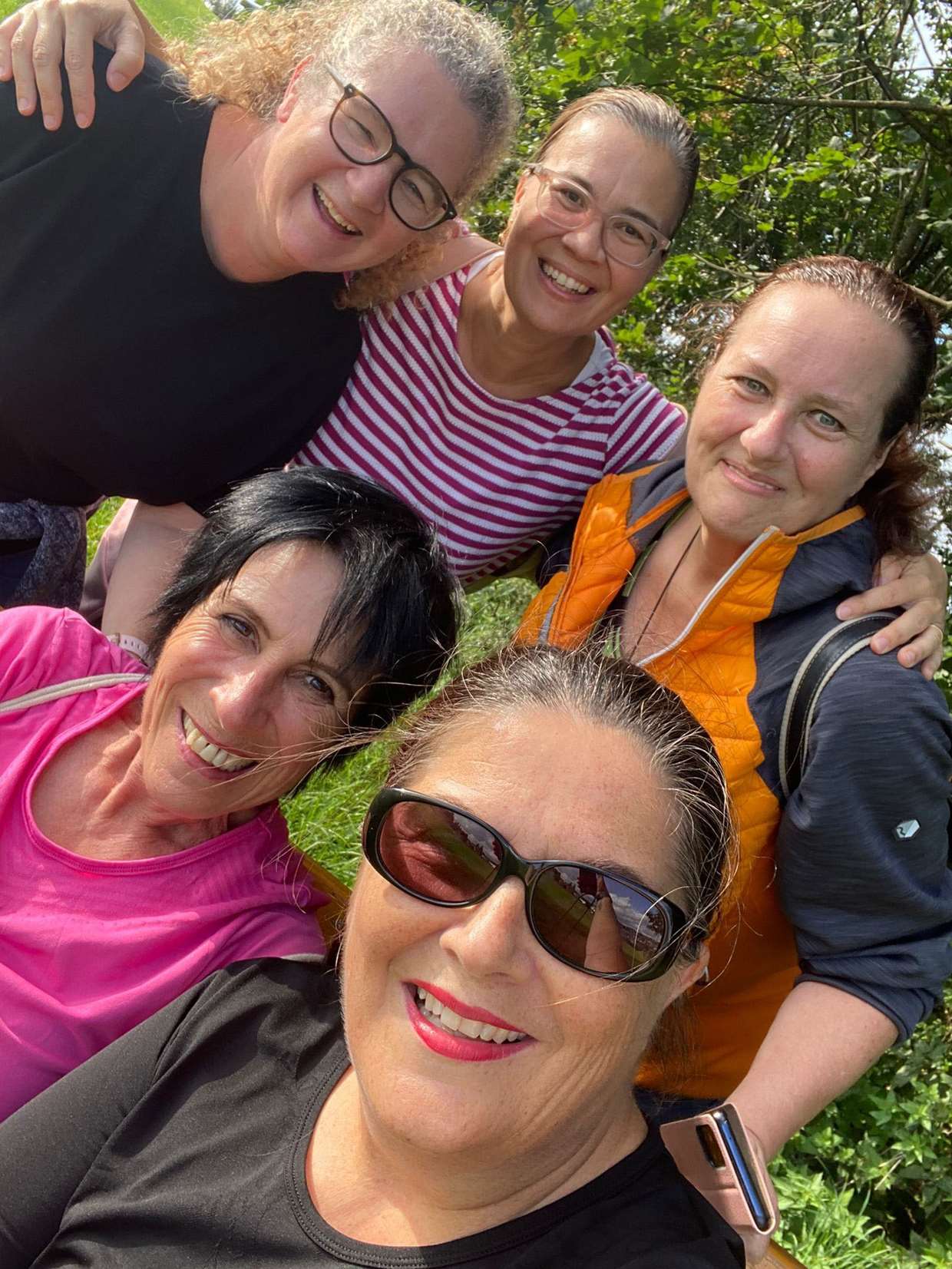 At the end of September, HUBER+SUHNER employees collected a total of 58.2 million steps which translates into around 40 700 kilometres, a distance equal to walking once around the globe. Six teams completed and exceeded the virtual route from Pfäffikon to Herisau resulting in CHF 150 000 donated. The allocation of the donation amount was based on the performance of each team during the step-counting challenge.
| | | |
| --- | --- | --- |
| Organisation |   | Donation in CHF |
| PluSport Zurich |   | 25 000 |
| Naturzentrum Pfäffikon |   | 24 000 |
| Winterhilfe Appenzell Ausserrhoden |   | 23 000 |
| PluSport Appenzeller Hinterland |   | 21 000 |
| Stiftung zur Palme Pfäffikon |   | 20 000 |
| Dreischiibe Herisau |   | 19 000 |
| Winterhilfe Zürcher Oberland |   | 18 000 |
| Total |   | 150 000 |
The organisations expressed their gratitude by sending in thank you notes and even a video to the HUBER+SUHNER Foundation and all employees who got engaged.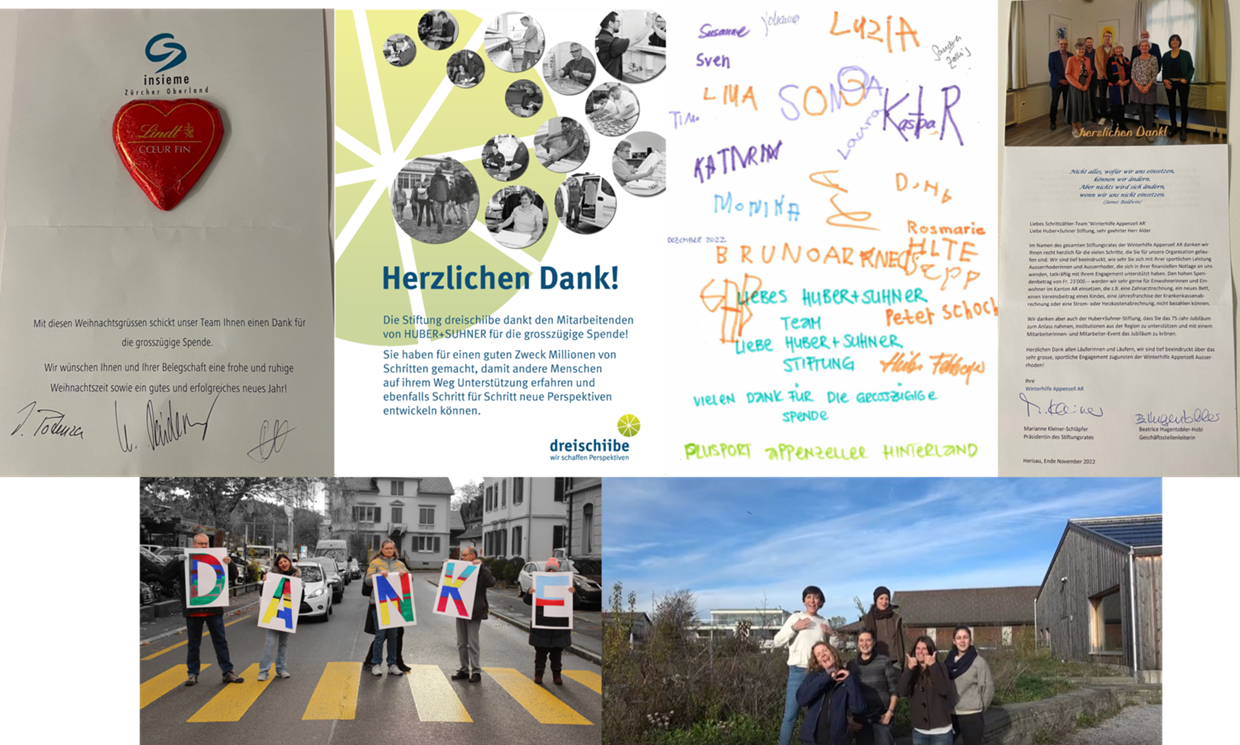 Coordinated actions from various countries for the Ukrainian people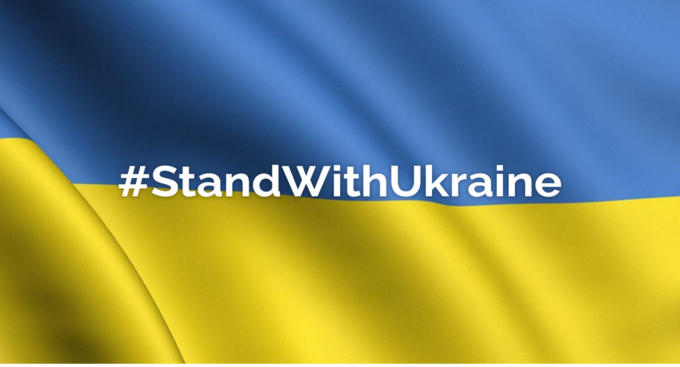 Following the onset of the war in Ukraine, HUBER+SUHNER wanted to understand how we can support the Ukrainian people on-site or as they were fleeing the country. Our global and corporate responsibility teams from various departments (such as Human Resources, Procurement, and Corporate Communications) in most affected countries (Poland, Germany, Switzerland and the United Kingdom) defined a three-phase action plan which was approved by Executive Group Management. Colleagues from our locations in the United States and Costa Rica also joined in to offer their support.
The three-phase action plan consisted of:
Involve

employees by offering additional paid vacation days to be used for a range of volunteering activities

Welcome

refugees by offering accommodation

Integrate

refugees by creating or offering existing job opportunities
Involve employees: The Executive Group Management decided to turn 1000 working days into 1000 days of volunteering activities for Ukrainian refugees. The 1000 days were allocated proportionally, taking into account the refugee-to-inhabitant ratio and the number of HUBER+SUHNER employees per country in Poland, Germany and Switzerland. These countries were in scope due to their geographical proximity and the subsequent increasing influx of refugees. Volunteering days could be used to help the people in need, by for example, renovating space to accommodate refugees; work at a humanitarian organisation focusing on Ukrainian refugees; supporting refugees with translation, paperwork or job applications; or by providing or transporting goods.
Involve employees: Our teams in Poland, Germany, Switzerland and the United States got in touch with local organisations to understand how they could support refugees. Very quickly, HUBER+SUHNER took actions as needs were expressed with regard to clothing, furniture and household goods, food, and hygiene and medical supplies, as well as school materials and toys. Other activities included the collection of money and storing goods for organisations in our office buildings.
Colleagues at our two locations in Poland and in Germany organised the transportation of collected materials and food by truck to the boarder of Ukraine to support people in the war zone. In Poland, medical supplies were prepared in agreement with hospitals in Ukraine to supply the most needed items. The supplies were delivered to a local charitable organisation and then transported to Ukraine. Additionally, Polish employees were providing language lessons to refugees to support a fast integration.
In our two United States locations Warren and Charlotte, also supported by HUBER+SUHNER Costa Rica, funds were raised by employees for the Ukrainian American Relief Committee Inc., and matched by the company. Additionally, an in-kind donation to support essential needs of refugees back in Ukraine was organised.
At our Bicester site in the United Kingdom, employee cell phones were upgraded. The old handsets were handed in to the provider or employees could buy them. The money collected from selling the old handsets to the provider or employees was then used to make a donation to an organisation which supported Ukrainian refugees.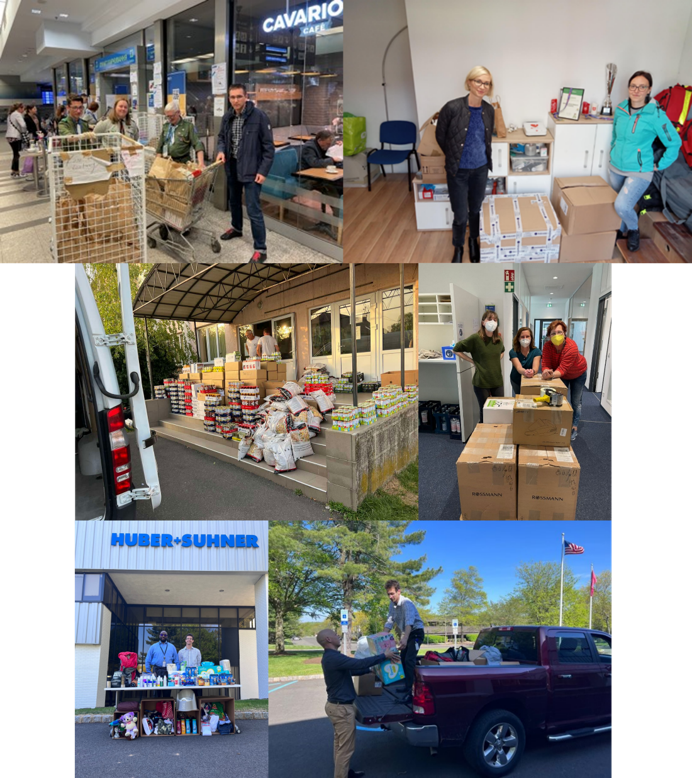 Welcome refugees: In Poland, Germany and Switzerland, teams inquired about possibilities to accommodate refugees as governments were calling on the population to offer their homes or living spaces to host arriving refugees, mostly women and children.
HUBER+SUHNER looked into options to provide office space, to rent accommodation at our cost, or to allow the refugees the use of company owned employee apartments for free, while hosting our colleagues in hotel rooms. All of this was done in close cooperation with local authorities. In Pfäffikon, accommodation was not the issue thanks to four available buildings, but internet access had to be provided. Therefore HUBER+SUHNER helped with the infrastructure by donating hotspots and SIM cards so people could get online to communicate with their families, to complete administrative tasks and start their job searches.
Some of our employees opened their own homes to refugees for an indefinite period.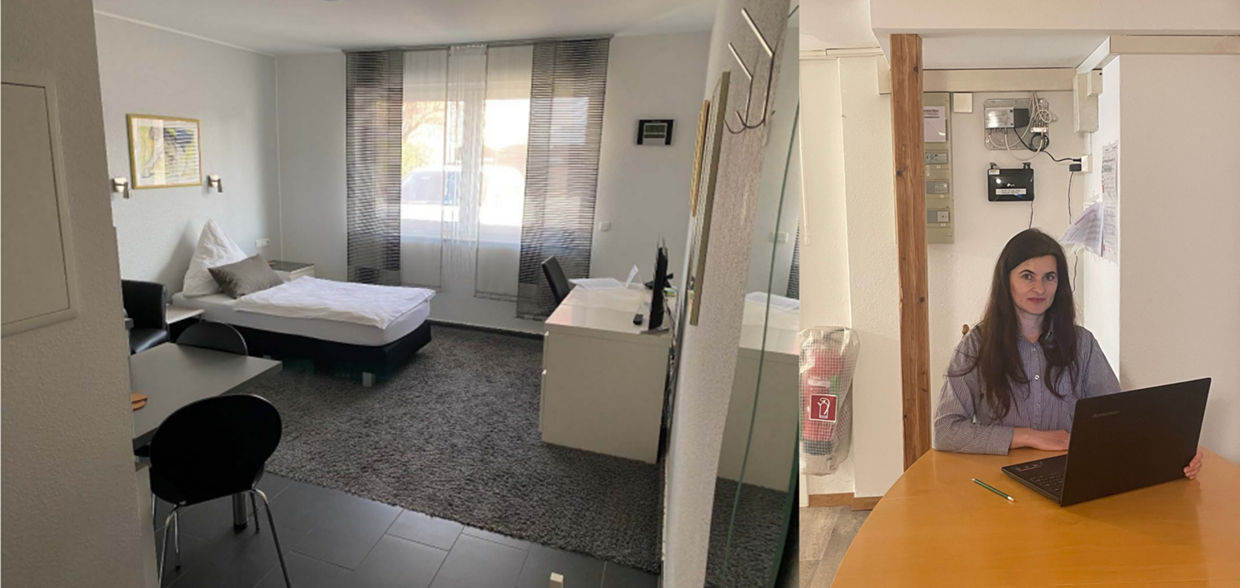 Integrate refugees: In many countries, regulations were eased to quickly offer employment to refugees. In Switzerland, thanks to the newly introduced status "S", Ukrainians were allowed to work very quickly and children were welcomed into the public education system. Offering employment opportunities via job centers was therefore another way for HUBER+SUHNER to get involved. In several countries, we employed Ukrainian refugees or helped by establishing connections for people to find employment. We also supported childcare, thanks to facilities already used by our own employees. In Poland, a one-week summer camp was offered with the financial support of our Tczew office to 39 Ukrainian and Polish children in order to help them relax and enjoy some normality.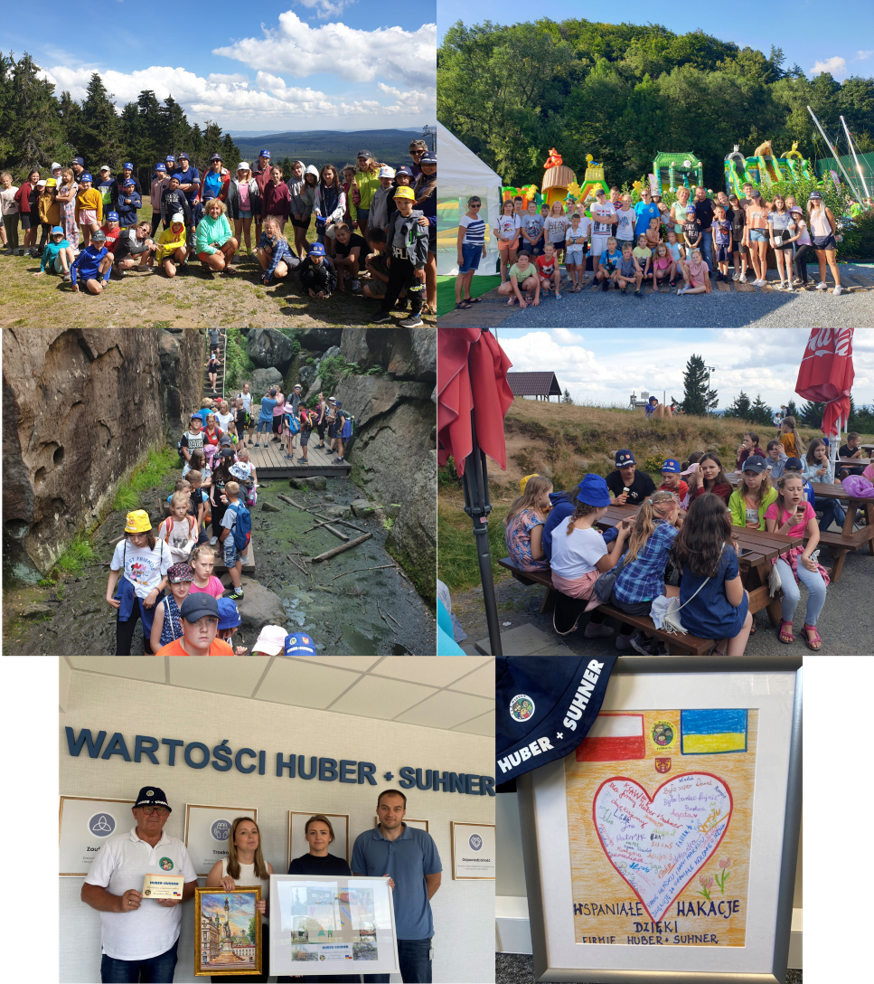 Out of the 1000 volunteering days, less than 10 % were reported by employees via our HR system. However, looking at all the actions taken with some still ongoing, we understand that the HUBER+SUHNER team went above and beyond to alleviate the situation for so many Ukrainians over these past months.
Country initiatives
India
Giving a second life to clothes, toys and books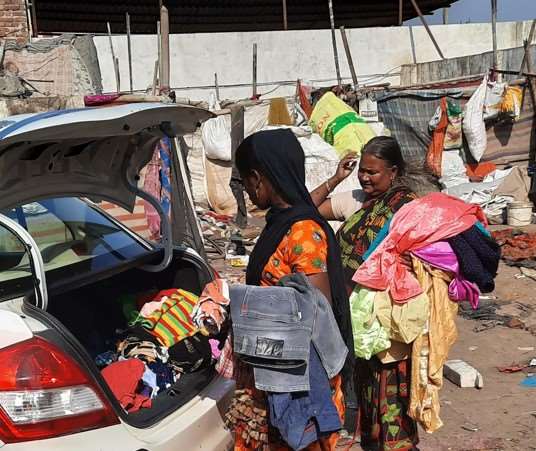 Diwali, the festival of lights, is one of the most loved festivals in India. It symbolises victory of good over evil, light over darkness, and knowledge over ignorance. Our colleagues at HUBER+SUHNER India brought light, care and happiness to people in need and whose lives are a struggle during Diwali and every day as they work hard to feed their families. Our employees came together to bring light to people's faces by distributing clothes, toys and books to families in the vicinity of our offices. For HUBER+SUHNER employees, it was a great joy to know that they could help and support fellow citizens with goods they no longer used but which meant a lot to someone else.
China
Supporting the education of young people in the community, HUBER+SUHNER in China has been contributing to the educational careers of two students since 2017 through the Aiyi Sunshine Student Aid Association, a non-profit organisation which focuses on poor students. Thanks to this financial support, the pupils will be able to complete their further studies and finish high school graduation. Our Chinese employees were asked to raise money and the company matched the donation. The amount of RMB 22 758 (around CHF 3091) was then transferred to Aiyi.
Poland
Running for people with a physical impairment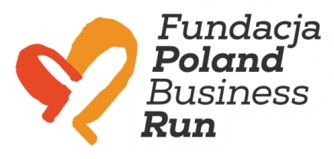 On 4 September, five employees from our HUBER+SUHNER site in Krzeszowice joined together to participate in the 11th edition of the Poland Business Run 2022 in Krakow. More than 32 000 runners from over 1500 companies signed up to participate. The Fundacja Poland Business Run, held annually, is a 5x4 kilometre relay race. Next to the physical participation, teams could also run virtually using a smartphone application. Not only the pandemic demanded for a hybrid event but the increasing amount of runners asked for it, too. Each participating company will help some 100 people from all over Poland who have a physical impairment or had to undergo a mastectomy.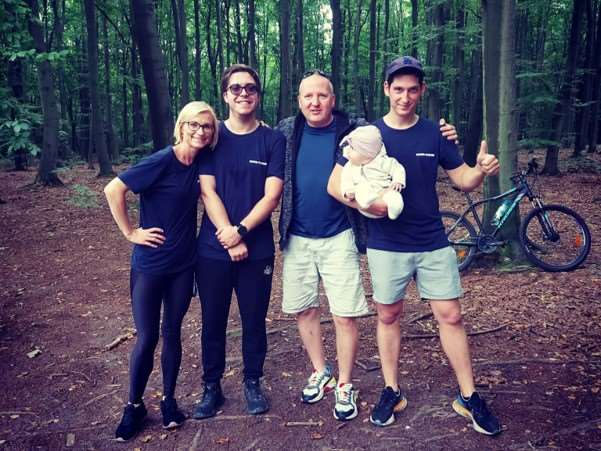 Every year in December, organisations, institutions, and individuals are awarded prizes at the Tczew County Volunteering Gala for their community involvement efforts and support for social initiatives. Volunteers, enterprises and organisations are nominated in four different categories, one of them being "Community-friendly company". The team from our site in Tczew earned the award in this category in 2022 due to their proactive attitude, the commitment to the local community, and good cooperation with regional organisations. Amongst their 2022 involvements were the financing of sporting events in the Powiat and Pomeranian region, participation in sporting events, and through the founding of a new award for young musicians.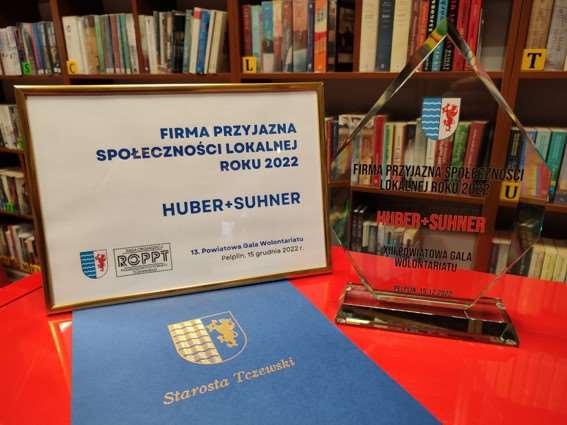 Americas
HUBER+SUHNER, Charlotte
Bringing joy to families with the Virtual Angel Tree Program during the holidays The Salvation Army, with which HUBER+SUHNER Inc. as had a decades-long relationship, offers underprivileged children gifts for the holiday season. The Virtual Angel Tree Program is an opportunity for companies and employees to spread joy by providing toys and clothing to children of less fortunate families. On the Salvation Army's community websites, wish lists of children named "Angels" are published. Our colleagues selected the wish lists of two children and shared them with employees so that volunteers could buy the desired items. These items were then delivered to the Salvation Army for distribution. The parents of the two youngsters were provided with the toys and clothes so they could wrap them and surprise their angels with the longed-for presents.
HUBER+SUHNER, Warren
Contributing to the "Giving Garden Project"
The Wagner Farm Arboretum Foundation seeks to enrich, educate and inspire the community by increasing environmental awareness and recreational opportunities. At the same time, the farm produces vegetables dedicated to feed families, individuals, and elderly who do not have the resources to acquire nutritional, healthy, and fresh meals. The "Giving Garden Project" (GGP) is a service and educational programme operated entirely by volunteers. The Foundation's vegetable beds are maintained throughout the growing season by volunteers who perform specific tasks under the direction of seasoned lead gardeners. There is always need for small groups to come once a season to help tend several beds. This is what some of our employees in Warren did by braving the elements to spread mulch and turnover soil on over 50 vegetable beds in order to prepare them for the winter.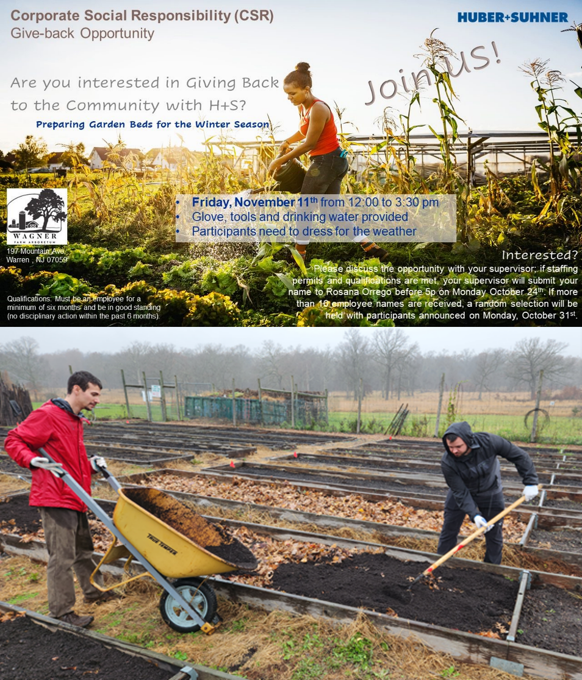 Financial and in-kind donations to several charitable organisations
Also this year, HUBER+SUHNER Astrolab provided financial and in-kind support to various organisations in their vicinity: On World Hunger Day in June, the team organised a food drive, collecting 155 kilograms of edible items. The Habitat for Humanity of South-Central New Jersey received a financial donation for giving Tuesday. Through the "Toys for Tots" of the US Marine Corp's employees participated in a charitable toy drive for children in need during the holidays.