The HUBER+SUHNER Group in brief
THE HUBER+SUHNER GROUP IN BRIEF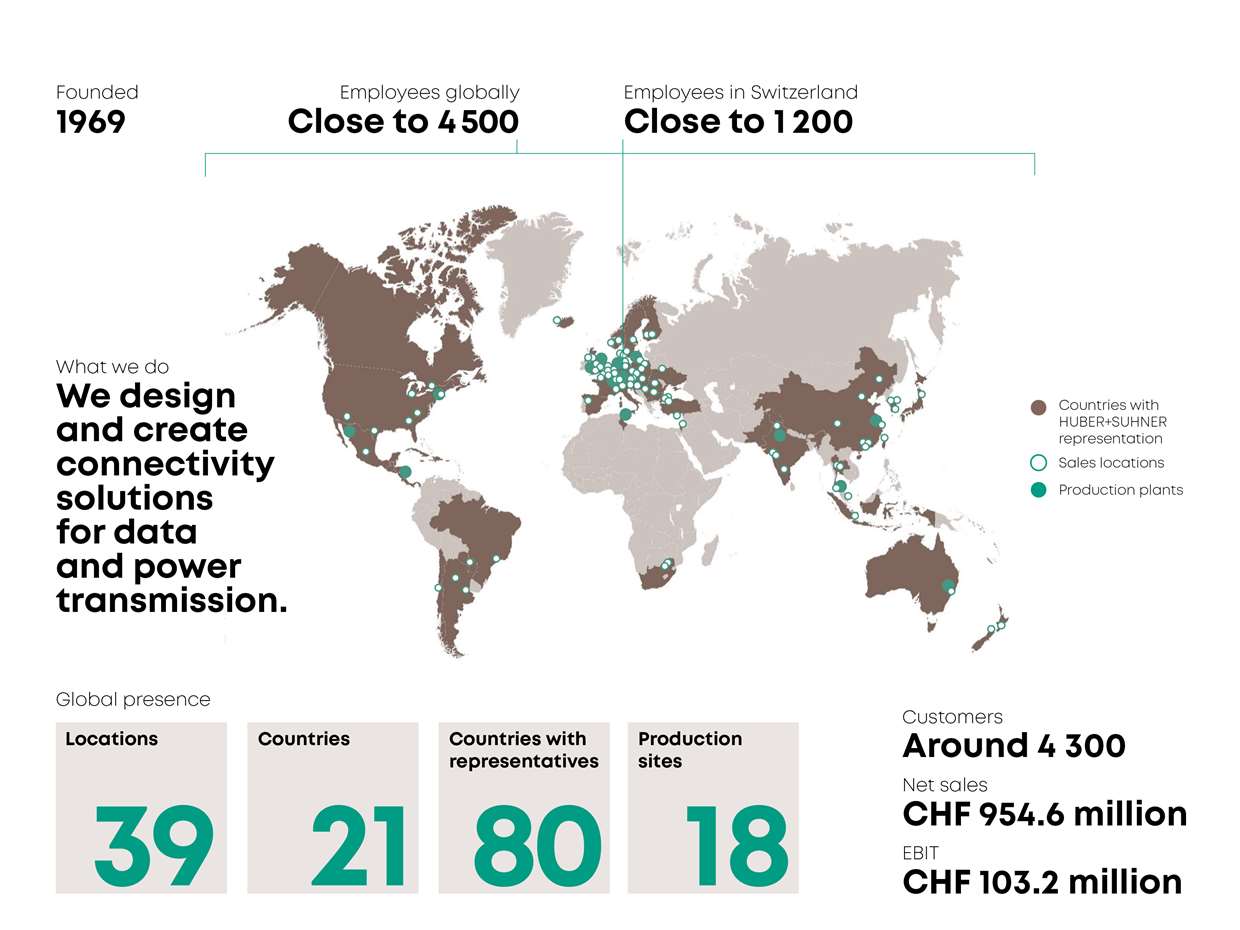 Connecting – today and beyond
The Swiss company HUBER+SUHNER, founded through the merger of two Swiss companies, R. & E. HUBER and SUHNER & Co. AG in 1969, has its headquarters in Herisau (Appenzell Ausserrhoden) and Pfäffikon (Zurich). The company designs and creates connections for data and power transmission. We are specialised in electrical and optical connectivity components and system solutions that deliver high performance, quality, reliability, and a long service life – even under the toughest of conditions. Being connected is a prerequisite for the functioning of our society. The desire to be connected is driven by fundamental human needs:
With its connectivity solutions, HUBER+SUHNER helps customers bring people closer together and address global megatrends such as security, safety, connectivity, and mobility – today and beyond.
Every day, close to 4 500 employees work in 21 countries and 39 locations to fulfil the HUBER+SUHNER purpose. The global production network includes 18 sites. And through its own sales force complemented by agencies and distributors, HUBER+SUHNER is close to its customers in over 80 countries. Its employees live up to the five company values, namely trust, care, passion, transparency, and accountability which promote the entrepreneurial spirit and are based on respect for people.
Since 2021, HUBER+SUHNER has oriented itself towards three market segments: Industry (31 % of net sales), Communication (41 %) and Transportation (28 %). These three dimensions of our business are addressed with applications from the three technologies of radio frequency, fiber optics, and low frequency. Currently, HUBER+SUHNER serves over 4300 buying customers in Europe, Middle East and Africa (EMEA) with 51 % of net sales, the Americas with 26 %, and Asia-Pacific (APAC) with 23 %.
HUBER+SUHNER is listed on the SIX Swiss Exchange and has around 6100 shareholders (as per 31 December 2022) of which four major shareholders are above the reporting threshold of 3 %. In 2022, net sales amounted to CHF 954.6 million and operating profit (earnings before interest and taxes [EBIT]) was CHF 103.2 million.