How we create and distribute value
How we create and distribute value
Human existence today is based on connections – connections between humans, places and systems. They are essential for the functioning of our society.
Our customers make these connections happen by building networks and means of transport that carry people, data and energy. This enables humans everywhere to stay in touch, be mobile and safe, and contribute to a more sustainable world.
To continuously maintain and secure these networks, our customers need a reliable partner who offers stable and suitable connectivity solutions. At HUBER+SUHNER, we develop and produce the often-unseen but crucial parts that keep networks running.
The HUBER+SUHNER sustainable business model
HUBER+SUHNER creates value in multiple dimensions. The business model shows how the company transforms investments, relationships and resources into valuable outputs and out-comes for its shareholders and other stakeholders over time. The model is centered around the company's fundamentals with the vision at its core: Connecting – today and beyond. The model builds on markets, trends, and the five key stakeholder groups, namely employees, customers, shareholders, suppliers, and communities (which neighbour the company's sites). A surrounding circle is embracing the three circles of the fundamentals, representing the core subject areas of corporate responsibility: human rights, labour practices, the environment, fair operating practices, customer issues, and community involvement and development.
HUBER+SUHNER strives to maintain its technology and innovation leadership and achieve strong positions in target markets through the constant exchange between internal resources, external markets and society at large. In all business activities, the Group focuses on its ability to sustain and create value in the short, medium and long term.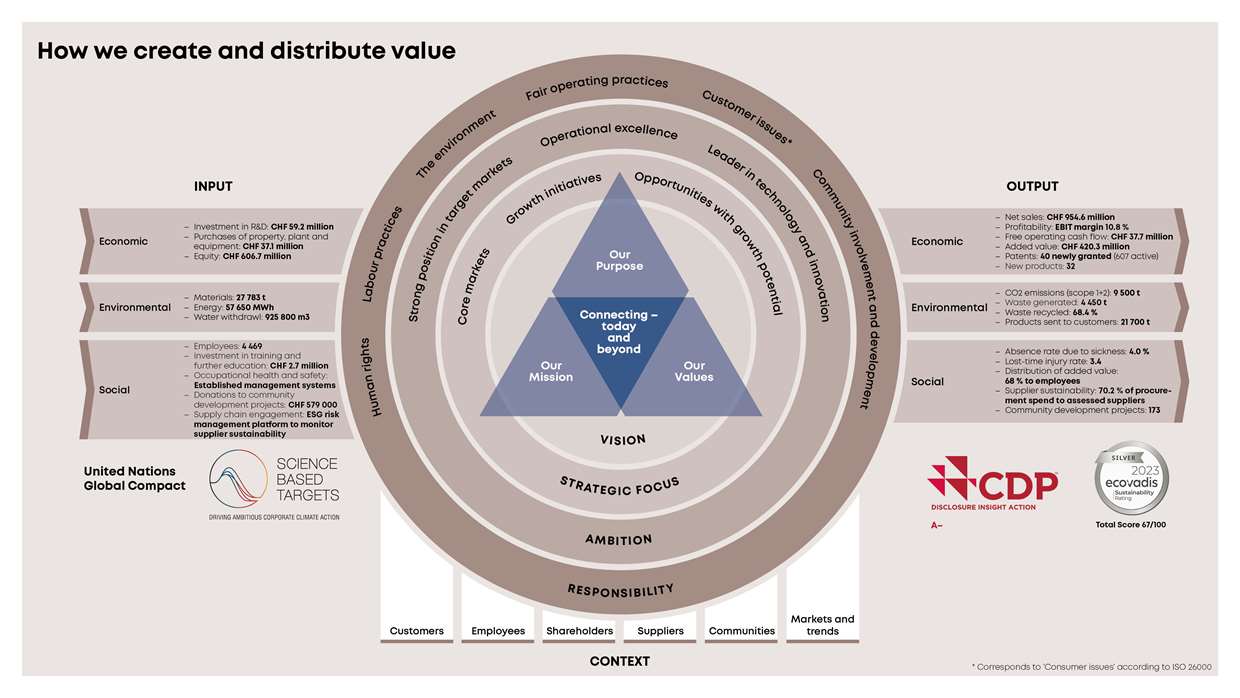 Value distribution
The added value indicates how much value HUBER+SUHNER created. It is calculated from profit before tax and depreciation plus personnel costs minus other financial results. The following chart discloses how the added value benefits the various stakeholders or is retained within the company. In 2022, the added value amounted to CHF 420.3 million (+1 % compared to 2021).
In 2022, 68 % of the global added value (PY 67 %) directly or indirectly benefitted employees, and 4 % (PY 4 %) the public sector in the form of income taxes. Shareholders received 9 % (PY 9 %) of the added value, while 19 % (PY 20 %) remained in the company in the form of amortisation, depreciation, and retained earnings.