Customer relations
The success of HUBER+SUHNER is directly linked to our ability to cultivate mutually beneficial and trusting relationships with our customers. In 2022, HUBER+SUHNER served a customer base of approximately 4300 buying customers. However, the major proportion of our sales is linked to key customers with whom the Group has established long-term relationships. Customer relations at HUBER+SUHNER are structured along the company's three market segments Industry, Communication, and Transportation, with dedicated sales teams in key countries and around 400 sales employees.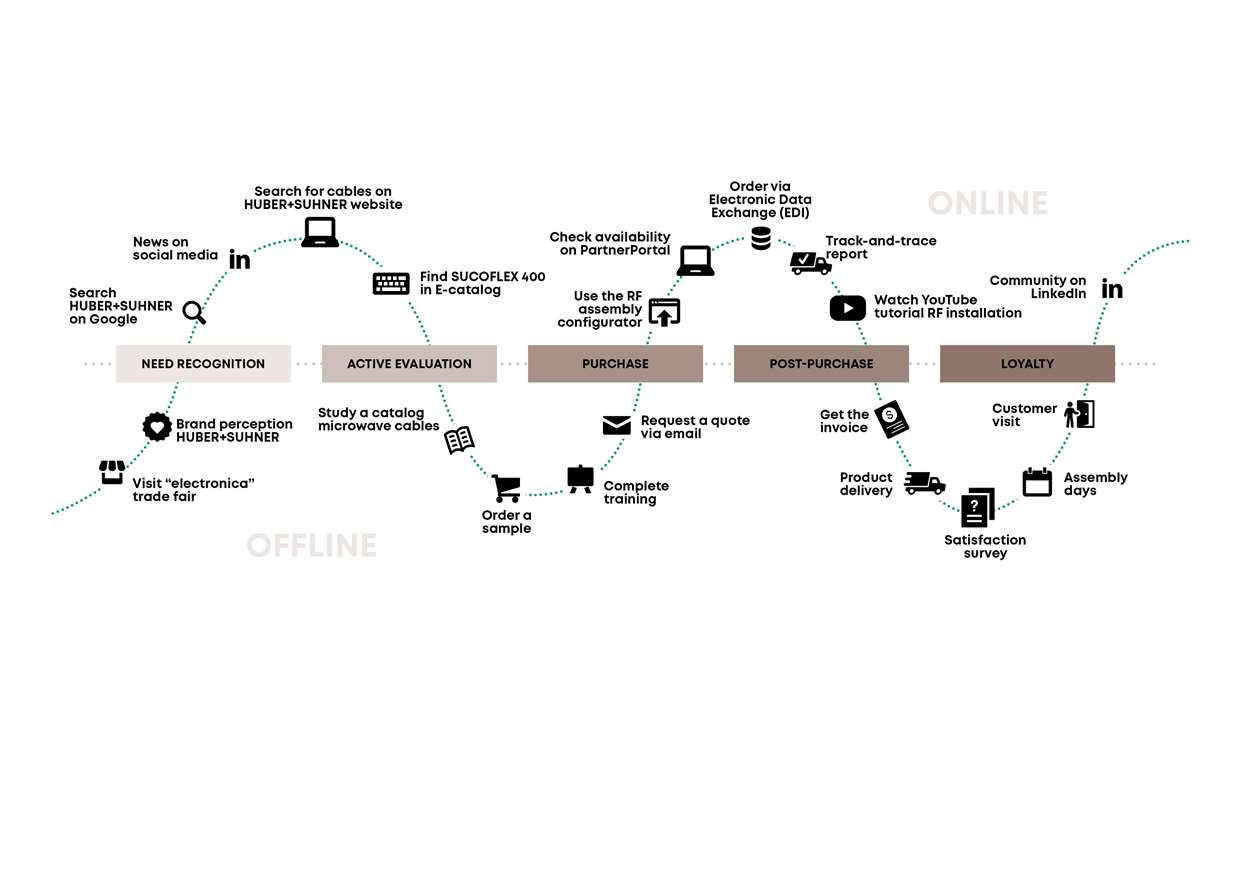 Driving a seamless customer experience
Offering a valuable customer experience is key for growth (see figure 1: Customer experience journey). Feeling the customers' pulse at decisive moments allows HUBER+SUHNER to consistently understand, follow, improve, and own all the touchpoints (e.g. during an online search, when receiving the company's response to a request, when using our products, or when interacting with the company in the event of a complaint).
HUBER+SUHNER must be a competent partner in engineering, logistics, and supply chain, constantly innovating and looking for highly customised solutions. Our focus on data collection and the evaluation process for an outstanding customer experience has been further developed through a new way of measuring the pulse according to 12 monthly touchpoints. A pilot "mood survey" was done in the first quarter of 2022 to establish all the relevant key performance indicators (KPIs) and to define and implement the necessary improvements.
One of the indicators the company has been measuring is the average number of days until a customer complaint is closed. In 2022, this duration decreased by 3.7 % y-o-y. Focusing on the full customer experience will help HUBER+SUHNER to get a holistic view of the customer experience beyond pure customer satisfaction.
Personal interactions remain paramount
Personal contact is crucial to build and maintain close relationships with customers. They typically are assigned a single point of contact at HUBER+SUHNER for all their needs. With the "Godfather Program", key clients will be assigned a representative from executive management to encourage exchange and mutual trust with top management.
Regulatory and sustainability requirements
As a business-to-business (B2B) company, HUBER+SUHNER mainly faces compliance with regulatory and legal requirements. Therefore, we must be able to anticipate any developments at an early stage in order to develop our products accordingly. Detailed and transparent product information and labelling are therefore key to HUBER+SUHNER. The company also ensures compliance with standards and regulations such as registration, evaluation, authorisation and restriction of chemicals (REACH) and restriction of hazardous substances (RoHS).
By actively managing its environmental, social and governance (ESG) responsibility and by constantly working to enhance its performance, HUBER+SUHNER also contributes to the sustainability of our customers and thus positions the company as a valuable partner beyond technical expertise and product quality. In the past year, we have seen an increasing number of customers requesting information about the CO2 footprint of their purchased products. Other customers ask HUBER+SUHNER to disclose its ESG performance and targets via the EcoVadis, IntegrityNext, and Drive Sustainability platforms.
Additionally, we disclose environmental information to investors and customers annually on the CDP platform.