Fundamentals
Our fundamentals
"Connecting – today and beyond" stands at the basis of everything we do. Our aspiration is to satisfy important basic human needs such as the ability to communicate, to be mobile, to feel safe, and to act sustainably. As a company, we interact with our employees, customers, shareholders, suppliers, authorities, the financial community and others. Each stakeholder group has its own respective requirements or expectations of our organisation. With "Connecting – today and beyond", we have articulated a vision that addresses precisely this.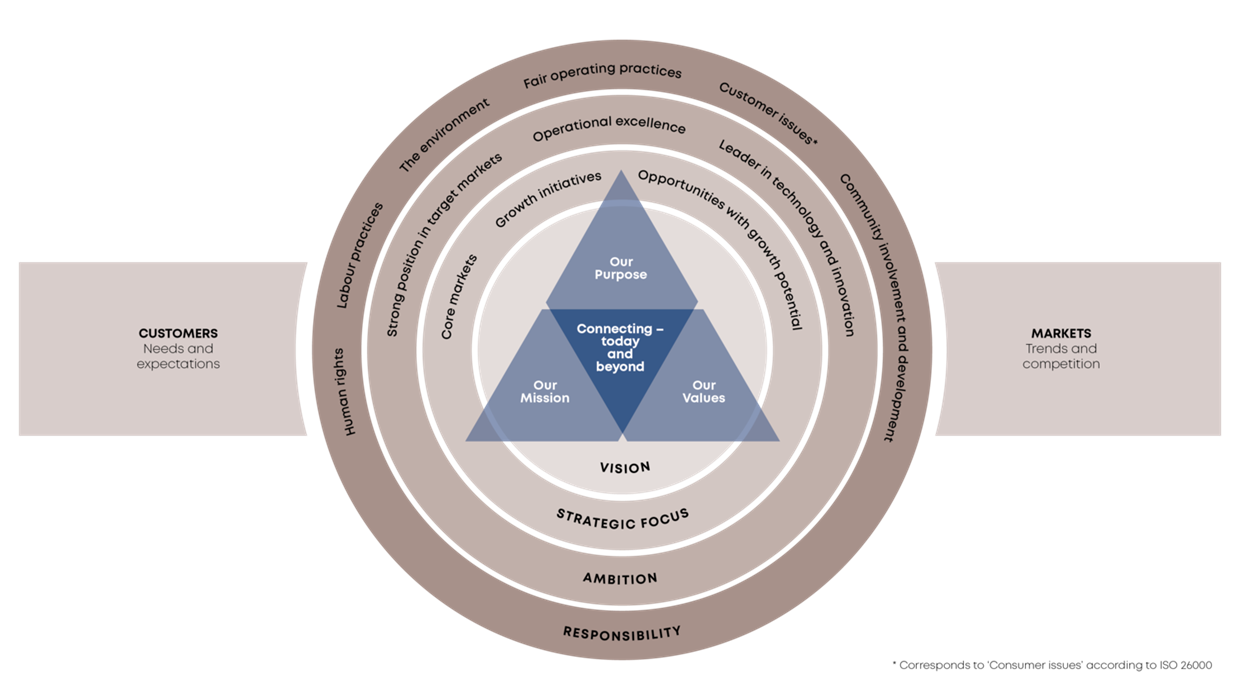 Our purpose
With our purpose "We help customers bring people closer together" we express how HUBER+SUHNER positively contributes to global issues with often-invisible products that, despite their small size, ensure highest precision and connectivity. Considering the social and environmental impacts, we fully embrace the approach to go far beyond purely selling products or solutions. We strive to create a workplace where employees can make an impact and experience how meaningful their contributions are. HUBER+SUHNER constantly monitors trends and competition in the market and drives innovative connectivity solutions that meet these needs and expectations by contributing to reliable communication, ecological mobility, dependable security and responsible business conduct.
Our five values
At HUBER+SUHNER, respect for people and cultivating an entrepreneurial spirit as well as nurturing talents at every level are integral parts of the company's commitment to being a hub of innovation. Our values reflect our business and support our employees in the way they interact with each other and towards stakeholders.
Trust: We give and expect trust.

Care: We take responsibility towards employees, society, and the environment.

Passion: We strive beyond the expected.

Transparency: We collaborate openly and honestly

Accountability: We take ownership and deliver what we promise.
The five values are also the basis of the company's leadership principles, a framework of actions that leaders can take to enable others to jointly work towards a common goal.
They provide guidance on how to succeed in a continuously evolving business environment.
Our five leadership principles
A leader's main role in today's work environment is to feel the pulse of people, to know how to allocate and to leverage the hard and soft skills of team members, to create energy and momentum, especially in a challenging environment. The five HUBER+SUHNER leadership principles serve as a basic guideline to all employees. People in leadership positions are expected to fulfil two roles – navigators and coaches – in order to give direction to teams and people so they can explore their full potential. We expect everyone to take leadership initiative when the situation requires it and to be able to:
With our products, applications and solutions, everyone at HUBER+SUHNER contributes to innovating and improving connections between humans, places and systems which are essential to a functioning society and which contribute to a more sustainable world. This is only possible when we all feel responsible and empowered to lead in our spheres of influence, striving to succeed in a continuously evolving business environment.
Our purpose, mission and values are built around our core and describe the mission. They give us direction and guide our actions every day with our shareholders and multiple stakeholders.
Our mission
We are striving every day to achieve our vision, "Connecting – today and beyond." Our mission is set forth according to nine goals:
With a three-dimensional approach, we consistently focus on the three main markets industry, communication, and transportation with the three technologies radio frequency, fiber optics and low frequency. Our reach includes three main regions: Europe, Middle East and Africa (EMEA), the Americas, and Asia-Pacific (APAC).

The company is permanently adapting to relevant trends.

We create sustainable added value with a long-term focus for stakeholders.

With a strong position in target markets, we are close to our customers.

As a leader in innovation, we master key technologies and present differentiated, convincing solutions.

We create value for our customers, enabling them to perform.

A powerful supply chain helps us to continuously improve processes and services.

Thanks to our company culture, our people share common values and are enabled to live their full professional potential.

High ambitions drive us to surpass set goals.
The vision of HUBER+SUHNER is therefore composed of all above elements, and sets the direction of where we want to go, how we want to work and stay on track in order to achieve our goals. The vision further helps to guide business decisions, inspire employees and establish customer loyalty.
Strategic focus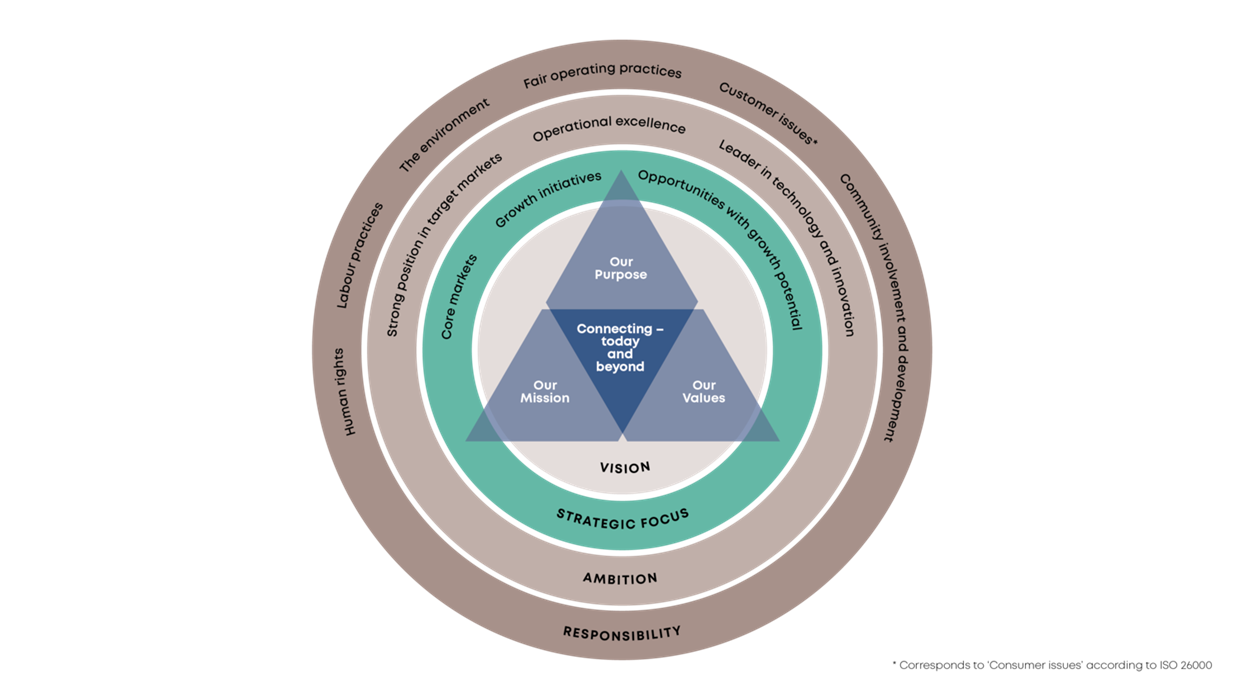 The long-term financial health and commercial success of HUBER+SUHNER are the result of our value creation through a clear strategic focus and strong relationships with our employees, customers, investors, local communities, and other stakeholders.
HUBER+SUHNER builds its sustainable growth on a diversified but focussed business approach with market verticals that together form a highly attractive portfolio and which can be grouped in three different states of maturity: core markets and focused market verticals, growth initiatives, opportunities with growth potential. In 2022, some allocations of these market verticals were changed for strategic reasons.
Core markets and focused market verticals are the basis of today's business. Their turnover is crucial to secure the company in its current size and setup. The aim is to be in attractive core markets which allow the company to use all its strengths to maintain a strong position. Their contribution is essential to reach today's goals and fund the growth initiatives.
The five core markets HUBER+SUHNER serves, are:
Test and measurement (Industry segment)

Mobile network (Communication segment)

Communication equipment manufacturer (CEM) components (Communication segment)

Fixed access network (Communication segment)

Rolling stock (Transportation segment)
The category of focused market verticals includes a range of highly attractive niche applications in smaller-sized markets such as:
Energy (Industry segment)

Medical device (Industry segment)

High power charging (Industry segment)
Growth initiatives have been identified based on their potential for significant sales, profitable growth, and their strategic fit:
Aerospace and defense (Industry segment)

Data center (Communication segment)

Rail communications (Transportation segment)

Electric vehicle (Transportation segment)

Advanced driver Assistant system (ADAS) (Transportation segment).
To succeed, HUBER+SUHNER ensures a dedicated approach, pre-investments in resources and the formation of highly committed teams. Growth initiatives are expected to grow faster than the company and the markets. They should have the potential in size and attractiveness to become core markets of the future.
Opportunities with growth potential are attractive business ideas at an early stage. The company identifies these business ideas by following megatrends associated with basic human needs and then providing connectivity solutions that help satisfy those needs. The business ideas either develop into growth initiatives or interesting niche businesses, or they are not pursued further if the opportunity is not sustainable. Therefore, the company strives to always have a broad range of such opportunities in the pipeline.
Ambition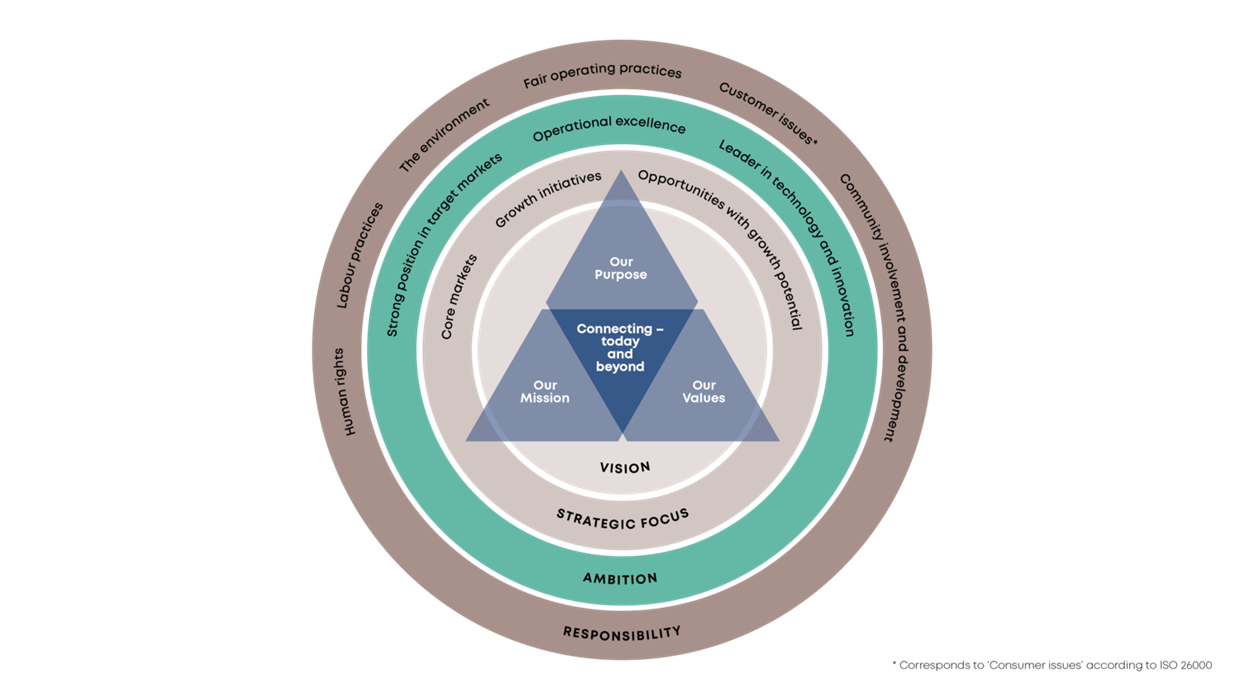 Three strengths form our ambition:
1. Leader in technology and innovation
Mastery of the applicable technologies and the necessary innovative strength are essential to open new markets and defend existing markets. At HUBER+SUHNER, innovation takes place in three areas to ensure the high degree of differentiation of the company's solutions: exploring new technologies and business fields, developing new product generations and applications, and improving existing products in terms of cost and performance.
We are customer-focused and specific because the starting point for innovation at HUBER+SUHNER is quite often a customer problem that needs to be solved. However, it can also be a technological trend that helps to improve an existing solution or generate an additional benefit. In this case, the company strives to be among the first to take advantage of a technological trend and set the standard. Proximity to customers and markets is a basic prerequisite for HUBER+SUHNER to live up to the ambition to be a technology leader. The research and development teams are another essential building block: they combine theory, practice and creativity, both in product and process development. This enables the company to position itself as a reliable innovation partner for its customers.
HUBER+SUHNER also cooperates with public research institutes and universities. In this way, we ensure technological progress beyond existing boundaries that does not focus exclusively on immediate economic benefit.
2. Operational excellence
Through operational excellence spanning production processes as well as logistics and the supply chain, HUBER+SUHNER sustains and extends its market positions. By continuously optimising its operations and entire supply chain, the company ensures a superior end-to-end customer experience, which is essential to establish long term partnerships with customers.
At HUBER+SUHNER, operational excellence goes beyond these fundamental issues. Sustainability issues are gaining importance. It starts with the production sites' carbon footprint, which depends mainly on electricity consumption. The amount of waste and the consumption of heating energy also play an important role. That is why operational excellence is also about energy-efficient processes, reduction of scrap, and energy-optimised buildings which at the same time ensure a good indoor climate for employees in their workplaces.
Transport also plays an important role in operational excellence. Optimised logistics ensure shorter delivery times and reduce the associated environmental impact. Proximity of suppliers of raw materials and piece parts are located close to the production sites whenever possible. In addition, greater vertical integration at one location is pursued in case this setup is more environmentally friendly than spreading production steps over many sites.
Finally, the production sites' geographical proximity to key customers is better for the environment due to the shorter transport distances in outbound logistics and at the same time is a competitive advantage.
The topic of product and transport packaging is also part of operational excellence. Here, the focus of HUBER+SUHNER lies on reusable packaging and packaging materials with a low environmental and carbon footprint.
3. Strong position in target markets
HUBER+SUHNER uses its strong position, long lasting relationships, and solid reputation in existing market verticals to tap into new, related markets. Having entered a new market with its products and solutions, the company fortifies its position by establishing and intensifying partnerships with customers. In doing so, we capitalise on our innovative strength to offer customers added value and support them to become relevant market players. In justified cases, we take the decision to step out of a market vertical.
Responsibility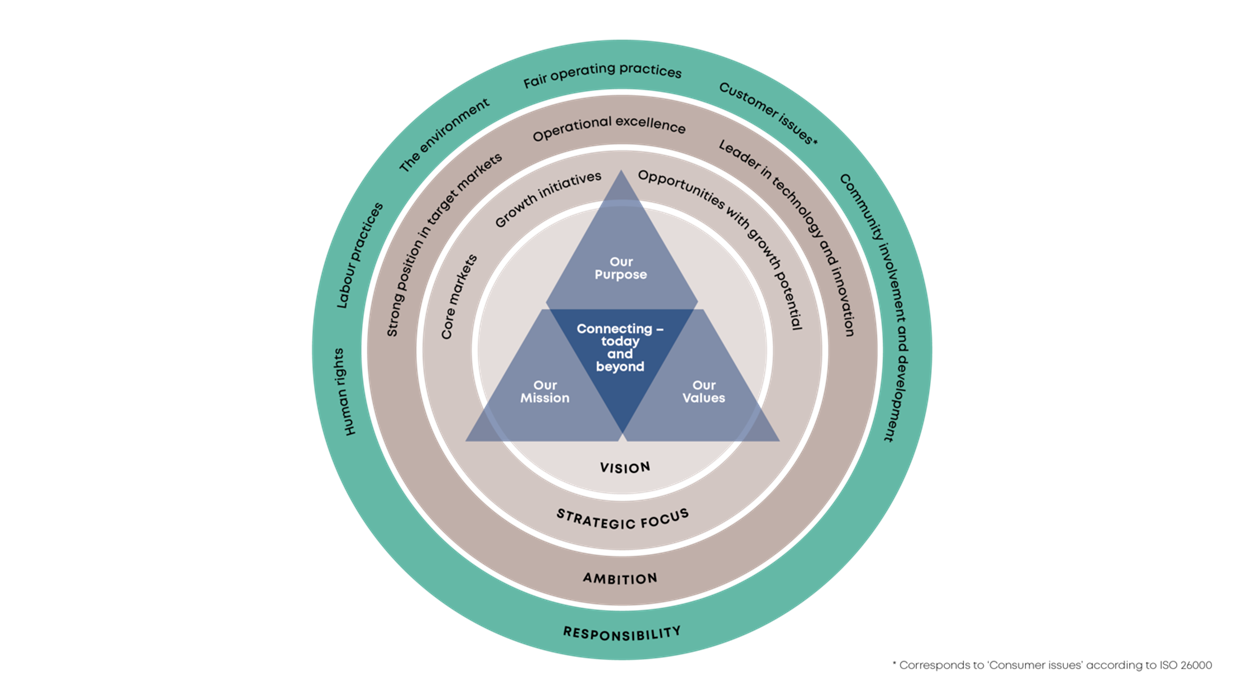 Whatever we do and plan to advance our strategy and performance is linked to our commitment of conducting business responsibly with regard to our material environment, social, and governance (ESG) topics:
Our continuous journey and commitments are to improve our economic performance and to analyse and transform existing business and production processes. This is a prerequisite to address the challenges which society is confronted with: humanitarian crises and conflicts, social and gender equality as well as climate change. HUBER+SUHNER sees its involvement to improve the state of the world as an indispensable part of how we drive business and our corporate responsibility going forward.
We understand that change and constant innovation require time, energy, and focus. HUBER+SUHNER is not a company that opts for the easy route. Our core business keeps teaching us to investigate meticulously and to work relentlessly to provide the best products and solutions that our customers and society need.
We remain committed to the United Nations Global Compact and its ten principles and to the Science Based Target initiative. With pride, we share our improved score in CDP's Climate Change Report, going up from B to A−. We have set ambitious goals which are based on our sustainable business model and we regularly measure our performance. The journey is the destination. This means that only by further embedding and connecting our ambitious corporate responsibility and business goals on management level and with every single employee, we can work towards becoming a truly sustainable business.
Customers and markets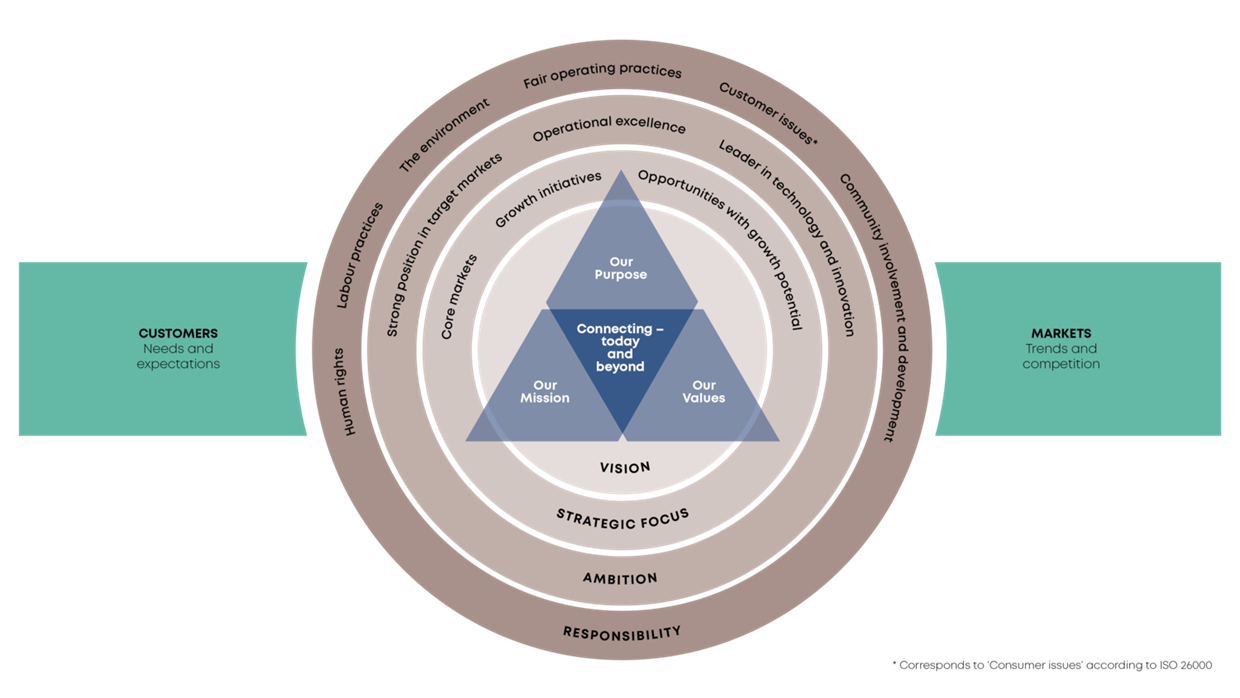 Through our global sales teams we are constantly at the pulse of our customers. This enables us to get profound insights on what our customers need in order to provide them with excellent end-to-end experiences. Thanks to our value assurance process, we are able to allocate competencies and resources as needed. That is how our three market segments are able to define customer-focused business cases for innovation projects. The internal HUBER+SUHNER "Future lab" ensures a constant flow of innovation opportunities and ideas for technology acquisitions.
Through our consulting and support-oriented, agile account management, and the "can-do" mentality of our people, we know clearly what our customers are looking for. Additionally, the engineered solutions of HUBER+SUHNER exhibit the high degree of differentiation that customers often need, such as:
deep understanding of their needs

strong position in essential markets

superior product and technology expertise and leadership

operational excellence to meet and exceed their expectations
With our more than 400 sales resources worldwide, HUBER+SUHNER has global yet local representation which again contributes to our high understanding of and proximity to our customers.